---
So, You want to Sanction your show with the AHRA?
Here is what you need to know!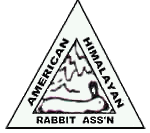 The American Himalayan Rabbit Association Show Sanction Rules
1.) No sanction will be issued without an appropriate ARBA Sanction number being provided.
2.) Any official ARBA sanctioned show may be designated as an official American Himalayan Rabbit Association Sweepstakes Show by application and payment of appropriate fee: $7 for Open, $7 for Youth, or $10 Combination.
3.) The AHRA Requires a minimum of 30 day advance notice for all sanction requests. A 60 day advance notice will allow us to print your show date in our club newsletter to inform our entire membership of all upcoming shows.
4.) The following placements must be selected at each official AHRA Sweepstakes Show, and must be reported on the report form provided: BOB, BOS, BOV, BOSV, Best Senior (All Colors) and Best Junior (All Colors).
5.) If ten (10) or more Himalayans are exhibited at the show, the sponsoring club must gurantee the following, or equivalent: BOB $2.00; BOS $1.00; Best Senior $1.00; Best Junior $1.00.
6.) Sorry, The AHRA does not issue free sanctions, even if no Himalayans were exhibited at the previous show. Please do not ask.
7.) Sweepstakes points are kept in individual and family names, but no memberships or sweepstakes points are kept in Rabbitry Names. Therefore, it is essential that placements are reported in individual or family names and not Rabbitry Names.
8.) COMPUTER PRINT-OUTS are acceptable, as long as they contain all the information reuested on the Sanction report form provided by the AHRA. If using a computer program, please check for completeness of information. If it is not complete as requested, please fill in all information on the first page of our form.
9.) Show reports, whether computerized or on our form, must be returned within 30 days of the close of the show to our AHRA sweepstakes Chairman, even if no Himalayans are shown:
Dan Daniels, AHRA Sweepstakes Chairman
PO Box 184
Minneola, KS 67865
Please do not mail them to our AHRA Secretary/Treasurer.
10.) Any show designated as an AHRA Sweepstakes Show must advertise it as such, and print the following in its catalog:
AMERICAN HIMALAYAN RABBIT ASSOCIATION OFFICIAL SWEEPSTAKES SHOW
Errean Kratochvil, Sec/Treas; 7715 Callan Ct., New Port Richey, FL 34654;
Dues: Adult $10, 1yr./$25 3yr.; Youth $8, 1yr./$20, 3yrs.; H&W or Family $12, 1yr./$30, 3yrs.
Sanction Fees: Open $7.00, Youth $7.00, Combination Open & Youth $10.00
11.) The AHRA Provides Special ribbons for Best of Breed and Best Opposite of Breed in Open and Youth, and these are included with your report form. It would be appreciated if you could return any unused ribbon with your report. We Thank you.
12.) Best Wishes for a successful show, and thank you for supporting the Himalayan Rabbit.